Evvai! Un altro giorno di pioggia! *da leggersi in tono sarcastico*
Non so voi ma a casa mia inizia a sentirsi l'odore di pelo bagnato dei miei orsi...siamo tutti sotto la pioggia: e non ne possiamo più!
L'estate sta passando senza che noi ce accorgiamo: un po' di pioggia sì, va bene, rinfresca...MA ORA BASTA!
Yay! Another rainy day! *to be read in a sarcastic tone*
I don't know if it's your case but my room it's beginning to smell like bear's wet fur...we're all under a heavy rain: and we can't stand it anymore!
Summer is passing by and I didn't realise that: I can stand a bit of rain, it refreshes the air,ok...BUT NOW YOU CAN STOP, THANKS!
Che ne dite? A voi piace la pioggia o siete più un tipo da sole e temperature da deserto come me? :D
What do you think? Do you like rain or you are like me and you like sun and desert temperatures? :D
Certo però che se siete muniti di un ombrello così carino come l'orso qui sotto, la pioggia diventa più sopportabile, vero?
But if you have a cute umbrella like this one holded by this bear below, rain becomes more likable, right?
*dlin dlon* momento autopromozionale :D
*dlin dlon* autopromotional message :D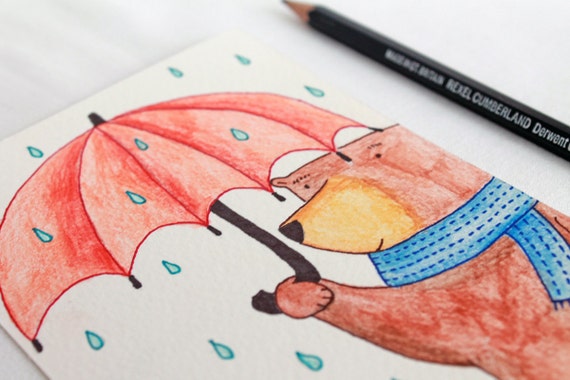 Questo simpatico orso sotto la pioggia è l'ultimo arrivo nel mio negozio Etsy: è un pezzo unico, totalmente fatto a mano, in cui ci ho messo tanto amore e fantasia quindi, almeno per me, vale oro! :)
Potete trovarlo al link qui sotto:
This cute bear under the rain is the last arrival in my Etsy shop: is OOAK, handmade and I put all my love and fantasy in it so, at least for me, it's treasure gold! :)
You can find it clicking on the link below:
Bene, per oggi è tutto: ma ci risentiremo lunedì con un post speciale in cui i protagonisti sarete voi, perché dovrete aiutarmi a scegliere una cosa...ma non vi dico nient'altro: SORPRESA!
Vi auguro un bellissimo weekend!
It's all for today: but don't miss the Monday post because you'll be essential! You will help me to decide something...but I can't tell you anything else: it's a SURPRISE!
I wish you a great weekend!
Love,
P.S. Avrete di certo notato dei cambiamenti al blog! Sto cercando di renderlo più fluido e semplice da navigare...ci sto ancora lavorando! :)
P.S. You probably have noticed some changements in my blog! I'm trying to make it more fluid and simple to navigate in...I'm still working on it! :)